While I worked on the duck blanket I had to take a break from it. I was drained and needed some oomph to bring me back into my sewing game.
I decided to finally break into my favorite fun remnant of these cute guys.
End result was two sets of two 'monkey business' burpcloths with no owner.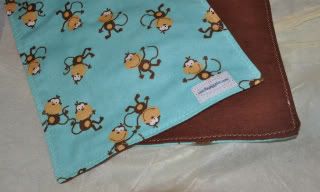 HINT HINT = I'm tempted to let something like this end up as a giveaway some time.
Have a great Monday everyone!!