Since I've become addicted to some of the blog hops and linky parties I know that several of my newest followers are finding me through those fun places!! If you a new visitor, I'm a great follower :)
This week I'm partying with some new blogs to join in the fun!
Found this new bloghop from
On the Verge
and another new one at
My New Life s Mom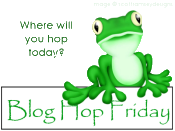 From a new follower,
Toddler Awesome
">
And of course
If you want to be a stop on an upcoming FieldTrip, leave a comment and link for me to venture into your 'neighborhood' for a stop :)
Have a great weekend everyone!