Wow, it seems forever that I've been able to blog about my own stuff! But truthfully the lapse in blogging about projects is solely due to the time devoted to the projects! Essentially, the busier with sewing I am, the less time I have for the fun blogging.
The primary time sucker this past month was a custom job that I hemmed and hawed over for quite some time. I'll admit it, I totally procrastinated with it, stalling as long as I could. I knew I had taken on more than I could chew back when we discussed the project. A woman at work approached me to make a custom blanket for her, that is easy enough, most of my stuff is to order. However, she wanted to re-create the baby shower invitation. Being optimistic and eager, I said 'of course I can do that!' and took the challenge. Wowza. I had alot of learning to do before I tackled this one. Mainly, self-teaching the art of applique is one thing, but then to let the customer decide in flannel? Applique in flannel? Not the easiest feat with its fraying and fuzzing abilities. Nonetheless, I pushed on.
The original inspiration from the shower invitation: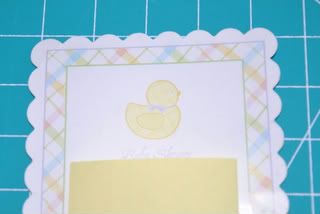 In the process pictures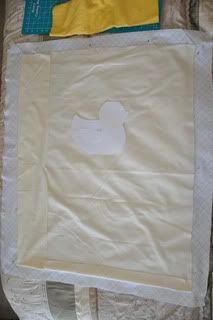 And the final product of the blanket:
Blanket total size is 38x34
The duck was originally to scale but I bumped him up to make him a focal point.
The eye is needlepoint stitchery.
The name is matching cording with a whip stich (by hand).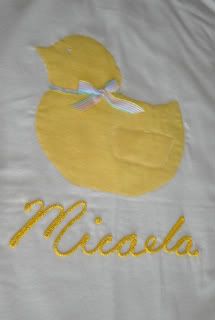 And since there was leftover fabric, I threw in some burpcloths made of the same materials.
And now onto other fun projects!!
linking this up to: