My son had the fun kindergarden experience of his teacher being pregnant and getting a cute baby belly by the end of the year. Her name is Mrs. White, and being so clever just like his momma, my clever son suggested the name of 'Snow' if the baby is a girl. I thought it was a great suggestion, but won't be disappointed if she and her husband opt not for the punny name.
They are having a girl who is due next month in July, and well it totally worked in my favor when it came time for a 'thank you' gift for the end of the year.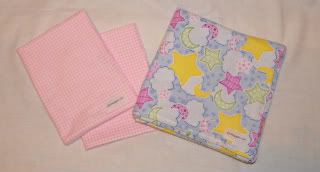 I'm lucky to have random fabric to make a cute present at 10pm the night before its due.
Linked up with: